Secret soirées go legit and sell underground supper club tickets
Pssst. Want to know a secret? Underground supper clubs are being held at non-traditional venues, all over the country, maybe even in your neighborhood. This edition of Thinking Outside the Box(office) looks at how "underground" dining events have matured and now make use of iPhones apps to connect diners with events. Is the next evolutionary step to sell underground supper club tickets online?
Secret Soirées ...not so secret anymore
A few years ago, the hot gastronomic trend were the so-called underground supper clubs. The secret dining events were mostly word-of-mouth gatherings at non-traditional venues like a warehouse or someone's home. The hush-hush nature of the underground supper clubs has its roots in the high cost of opening a traditional restaurant. Instead of signing a lease, apply for permits and borrowing money from a bank, the organizers borrowed a page from the notorious speakeasys of the 1930s.
As their popularity grew, underground supper clubs didn't stay "underground" for long. By late 2011, the secret soirees had been widely reported in the media. A few were so popular, they evolved into permanent fixtures for dining, replete with all the all proper permitting and Health Department inspections.
One of the more "above ground" events is Forage SF (video above) in San Francisco California. Forage SF dining events use the underground supper club format, but don't make much effort to be "secret". In fact Forage SF has been featured on cable TV food shows, plus they have a website and public social media accounts. Forage SF calls their underground supper club the Wild Kitchen:
The Wild Kitchen is a roving underground supper club. From a roof-deck in the Mission one week to a houseboat in Sausalito the next, The Wild Kitchen knows no geographic bounds.  Sixty diners sit around the communal table, enjoying lavish 8 course meals, with each course highlighting a sustainably foraged ingredient from the local landscape. These meals connect the eater with his natural surroundings in a new way.  The Wild Kitchen brings eaters together to grow community around the foods that nature provides.
Of note on the Forage SF website are announcements of upcoming dinners, including a special Valentine's Day event. There is even a web store selling gift certificates. These are the mechanisms of a legitimate, for-profit business, and hardly the edgy "outlaw" events from a few years ago.
Another not-so-secret supper club is the Black Label Table in San Diego, which openly solicits the adventurous diner to call or email for information about the next event. On Black Label's Facebook page, you can see the photos of past events and get a sense of the ingenious way non-traditional locales are being utilized.
Ultimately, the true indicator these "underground" events are evolving into legitimate businesses is the technology being used...
Democratized Dining
National Public Radio (NPR) recently published a follow-up piece on underground supper clubs. To NPR's credit, they were in on the "secret" early and were one of the first major media outlets to bring the (then) burgeoning trend to the attention of the public.
In 'Matching Diners To Chefs, Startups Hatch Underground Supper Clubs', Eliza Barclay writes that the formerly covert dinners have matured to the point that software start-ups have begun writing iPhone apps for them. The days of word-of-mouth and secret handshakes are long gone if one can download an app and find a dozen "underground" events nearby. Barclay writes:
Remember all that hype about "underground" supper clubs a few years back? They lure adventurous diners into homes and makeshift spaces where fledgling chefs cook up feasts for pay. The hosts trade in secrecy and exclusivity, and play up food specificity with themes like "Pig Every Which Way," "Jewish Soul Food" and "A Taste Of Tripoli".

A handful of start-ups are betting that the concept is just taking off, and see it expanding to a growing number of cities. Here's the skinny on four companies dedicated to helping people find, organize, monetize and manage supper clubs...
Barclay goes on to write that one such app, Feastly, wants to democratize dining and become "the Airbnb of the food world." That goal is another indicator of big business - Airbnb is funded by tens of millions of dollars in venture capital cash. Barclay's post also mentions Kitchenly and Supper King, which are similar apps that connect patrons with underground supper clubs.
An earlier edition of Thinking Outside the Box(office) featured the wildly successful 'Next' restaurant in Chicago. The 'Next' dining experience is similar to underground supper clubs, but 'Next' distinguishes itself by always being in the same place and by selling tickets in advance on its website. The next step in evolution of underground supper clubs becoming legit businesses is very likely to be online ticketing (there is at least one already).
Sell Underground Supper Club Tickets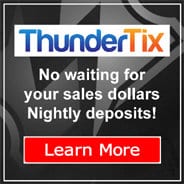 As the "underground" supper clubs become legitimate businesses, they will face the same challenges as other bespoke events that occur at temporary venues. High on the list of challenges will be having the funds to lease a venue and purchase the ingredients.
Traditional venues like nightclubs have long been aware of the advantages of selling tickets in advance. The influx of cash advance tickets generate is put to good use long before the day of the event. Underground supper clubs that are already listing themselves in apps like Feastly may find demand exceeds their available funds. For example, the supper club selling 250 advance tickets for $100 each will have ~$25,000 in capital to use weeks before their guest arrive. That is more than enough to lease an exquisite location and still have the money to order ingredients and hire staff.
ThunderTix offers nightly deposits of the sales dollars from ticket sales, no waiting days, or even weeks, for access to your funds. In addition to nightly deposits, we also offer you the ability to sell tickets from your Facebook page, right where you are already interacting with your guests, past and present. Plus, we do not charge you per-ticket fees.