UPDATE: Restaurant Ticket Systems
UPDATE - More actionable evidence has come to light on restaurants selling tickets instead of taking telephone reservations. Past speculation, controversy and false starts notwithstanding, the move toward restaurant ticket systems may be reaching a tipping point.
An Eye Popping Percentage
Previous posts looked at restaurants, operating in niche markets or radically altering their service making good use of online ticketing in lieu of accepting telephone reservations. Granted the past examples cited are special cases, and do not represent the restaurant industry as a whole. However, some under-reported data from last year may make exceptions the new normal.
Late in 2012 Bruce Horovitz reported of an influential study by National Restaurant Association. The study, filled with real world data gathered from restaurant owners, suggests the once technologically deficient food industry is ready to join the Internet Age.
As Horovitz aptly states, the numbers are eye-popping:
54% of restaurant owners say they'll invest more in technology in 2013. Fact is, they have no choice. Consider: Less than one in 10 table service restaurants currently offer options such as electronic table-side payment or mobile payment.

"Technology has gone to the top of restaurant-owner action lists for 2013," says Hudson Riehle, senior vice president of research at the trade group. "That's because it's what the industry's key demographic, 18- to 34-year-olds, most wants."
The study contradicts the tepid opinion of technology, restaurant ticket systems in particular, previously made by a handful of restaurant owners.
It was not long ago that restaurant owner Noah Ellis was embroiled in a public opinion firestorm when he began to tweet the first and last names of diners who failed to show up for their (spoken) reservation. When the suggestion was he should make use of restaurant ticket system, as a countermeasure to no-shows, Ellis balked at the idea:
We tried taking a credit card on every reservation, but it hurt our business; there's a contingent of people who just won't put down a card, regardless of if they plan on coming or not. The ticketing systems are interesting, but we do most of our business a la carte, and I'm also not sure that we have the consistent demand to justify it. We could do walk-in only, but then if you're celebrating a special occasion having a meeting, or trying to have a nice night out, it sucks to not know when you'll be able to get a table. There's no winning.
But Ellis isn't the only owner whose minority opinion has been mistaken for the majority. Restaurant owners with a much more positive opinion of technology, such as Paul Qui, have said they are moving away from telephone reservations to restaurant ticket systems albeit very slowly:
We'll have it on a ticketing system similar to what you see at Alinea in Chicago. But I'm going to start out slow. We'll open the main dining room for 50 people first and once we feel ready, we'll open it up for lunch. Then we'll work on opening up the tasting room, but only when we're ready. And we'll probably only do one seating a night. And just take it from there.
Slow and steady may win the race, but there is such a thing as being overly cautious to a fault.
National Restaurant Association study confirms the actual majority opinion - restaurant owners will be changing outmoded business practices and make maximum business use of technology.
Why Wait? Restaurant Ticket Systems Immediately Available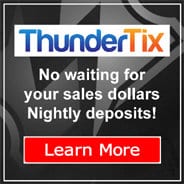 ThunderTix can help you start selling tickets online in as little as one business day with no long-term contract commitments. We also make nightly deposits of your sales dollars directly into your bank account, giving you the liquidity to buy only what you need for the menu – no waste. Best of all we do not charge you per-ticket fees!