Conference and Trade Show Registration Checklist
Of all the tasks associated with your conference or trade show, event registration and ticketing for both attendees and vendors, should be priority one. Use this conference and trade show registration checklist to save time, money and help ensure that your event is a successful one.
Making a List, Checking it Twice...
There are several key considerations to be made for your attendees and vendors early in the timeline of a successful (and profitable) event. According to the Institute of Electrical and Electronics Engineers (IEEE), the sooner you plan for your conference or trade show the better. IEEE organizes several hundred conferences every year, and as such, hold an authoritative reputation for conference planning best practices.
How soon should you start planning in advance? In their most recent publication the IEEE, recommends the event begin to have all its ducks in a row "6 to 9 months BEFORE start date." High on the IEEE list are the registration and ticketing tools, the separate considerations for attendees and vendors being of special note.
Conference and Trade show Registration Checklist
No matter the size of your conference, the following registration checklist items should be carefully reviewed as each one may dictate your choice in conference registration software.
1. Online payments and PCI compliance
Per the IEEE guidelines, as early as nine months before the start of the event, the choice in online payment method is to be made.
Create registration form and establish a method for registration collection that is Payment Card Industry (PCI) compliant.
Attendees and vendors will need to be presented with highly reputable credit card processing so they will have the confidence to buy tickets. While there may be cheaper online payment services, the fractional savings they provide will not make up for the number of abandon purchases process they cause. The last thing your trade show needs is a fly-by-night payment service that endangers your event's reputation and revenue producing capabilities.
2. Clear paths for attendees and vendors during registration
As the online registration process begins, it is important to present a clear path for your two types of customers. A few well chosen words and complementary graphics that shepherd attendees and vendors to their respective areas on your website with make for a more efficient purchase process.
And as is often the case, a single office person is registering multiple company employees for your conference all at once. That person may not be familiar with obtuse, industry-specific, language describing the difference between vendor and attendee. Rather than assume the registrant is an industry insider, use the minimal  amount of jargon and acronyms at each step of the registration process.
3. Floor charts for vendors
The floor chart should be an interactive graphic that present available space for booths by size and price. As each section is purchased, the floor chart should update and make clear what has already been taken and what is still available  A text description alone (sans graphics) should be avoided since vendors will be less likely to upgrade to larger or more strategically placed displays.
Another important conference and trade show registration checklist item is privileged access to premium floor space for special vendor. In the music concert industry  early access to an event to called a "pre-sale" and is a highly sought after aspect of buying concert tickets. Your preferred list of trade show vendors and merchants can be privy to a pre-sale before everyone else.
Using an interactive floor chart, you may offer special discounted pricing during the pre-sale or offer the sections of the floor known to have the highest amount of foot traffic for a higher price. Alternatively, you solicit any and all vendors to register during an "early bird" pre-sale that will fill your coffers with cash as soon as possible.
4. Gather (and keep) critical contact information
As your event sells out, you will be accumulating a very valuable database of contact information, one that will be used for all of your future conferences. This wealth of information must be gathered politely during the registration process and keep secure for your use.
In addition, the contact data must be organized in such a way that you can sort and parse it for genuine meaning and value. Post event follow-ups and future marketing efforts depend on how much business intelligence you can glean from all of the contact information the registration process provides.
Also, be weary of online registration software providers that withhold or make use of your customer contact information for their own purposes - they are your customers.
5. Enable sharing
The serious business of industry trade shows should not be excluded from making use of social media. It is human nature to share personal successes with others. The same tools used to boast "I just got tickets to a concert!" can be made to function as sales tools for your trade show.
Once the registration process is complete, provide the tools for attendees and vendors to share with their professional peer group. Awareness of your event can be amplified by the act of sharing on social media for basically no cost. A prominent speaker or popular vendor may share that they are attending your conference on Facebook, bringing it to the attending of thousands of people. Consider social media sharing to be complimentary to the traditional advertising you already use.
Did your ticketing software pass the test?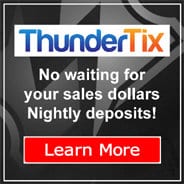 Not all conference registration software is the same. The ThunderTix plan for conferences and trade shows offers all of the industry specific features in the checklist above, plus we make your sales revenue available to you nightly - no waiting days or weeks to get your money. If cost is a concern, know that our technology scales to meet the needs of your event, making it one of the most practical choices in event registration available.
Be sure to take a look at our other features and sign up for a free trial today!
Image source: Wikimedia Commons