Tips To Increase Small Venue Ticket Sales
Author Mark Twain once said "It's not the size of the dog in the fight, it's the size of the fight in the dog." Meaning that competitiveness is not a matter of physical size, but rather a mental attitude. That expression holds true for any small venue and especially so for small live music venues. In this post are examples of ferocious "small dogs" and tips to increase small venue ticket sales.
Secret Weapon
In Austin, Texas, the One World Theatre will soon be host to a series of concerts by renowned musicians. The 300 seat theater has booked the impressive roster of talent, who usually perform at large venues, in spite of its size. Seating patrons in a setting that is up close and personal is actually preferred by the performers, so says Dane Anderson.
Anderson spoke to One World co-founders Harrt and Nada Stearns about the appeal of their small venue:
"It allows for real listening to happen," Stearns said. "Because of how close everything is, it has a bigger impact – a give and take between the artist and the audience. When you can see eyeballs, it has more energy." One World [is] masterful in knowing its audience and selling out performances, filling seats with people who are going to respond and interact with the energy of the performer.
Upcoming performances at the One World Theatre include the Grammy®-winning Average White Band, Boney James, Dave Koz, Richard Elliot, and Lee Ritenour. And to quote Anderson "That is quite a lineup for a tiny theater."
Intimacy is One World's secret weapon to increase small venue ticket sales. In Las Vegas Nevada, the secret is bringing big Broadway-style theatrics to a small venue.
Choreographer Geneviève Cleary has turned the very nature of the live music experience on its head by adding sophisticated theater elements to performances. The success of the Cleary produced shows caught the attention of Las Vegas Weekly reporter Andrea Domanick.
Domanick interviewed Cleary on the eve of two new productions at small venues that will feature costumed actors and dramatic vignettes of a production quality on par with a major Broadway play.
"I feel like I'm a secret weapon of the industry," the Montreal-born nightlife maven jokes of her behind-the-scenes status. Cleary has given Marquee its signature coyness and sass as the club's artistic and performance director, and she will hold the same position at Hakkasan when it opens this spring.
When asked specifically about small venues, Clearly emphasized that a great experience for patrons is reliant on continuity. The theatrics and special effects are designed to thread the disparate acts together into one continuous performance, a trait normally associated with larger productions (at larger venues).
Tips To Increase Small Venue Ticket Sales
One World Theatre is using intimacy. Geneviève Cleary uses theatrics. Other tips to increase ticket sales at small venues include...
Las Vegas hotels are famous for the special offers made to certain guests. Preferred status is offered by the hotels with the unspoken agreement that the VIP treatment will increase time spent gambling. That same approach can be applied at small venues. So-called bottle service, where patrons have their own dedicated server in a special area only for VIPs, is actually trivial to implement. The increase in ticket sales comes from the arbitrary assignment of VIP status to venue patrons already present. Once word gets out that you have started giving the VIP treatment to guests chosen at random, more and more people will show-up. Once established as a random offering you can make the VIP treatment a special ticket up-sell assuring its availability to those willing to pay for a premium experience.
On the heels of his performance at the tiny Zona Rosa nightclub during SXSW, superstar Prince is set to appear at the equally tiny Marquee Theater in Tempe Arizona. This mega-star booking in a small venue results in some eye-popping ticket prices. "You'll have to fork out $275 to see him." says the Sierra Vista Herald. Of course not every venue can book someone like Prince, but the principal applies generically. Bring in an act that the public normally associates with much larger venue under the assumption a premium price will be willingly paid. Since the demand for tickets will be very high and you can charge a very high mark-up and also expect a statistical spill-over to other shows scheduled before and after.
Get A Bigger Bone With Online Ticketing Software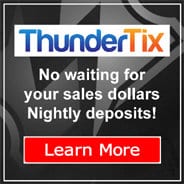 Big acts in small venues, elaborate production values and VIP status all have one thing in common - ticketing. When your goal is to increase small venue ticket sales you must make use of a ticketing software that has the tools to help you achieve that goal.
ThunderTix's plan for live music venues has big venue tools at a price small venues can afford. Our technology let's you offer special ticketing for VIPs or set higher prices for a one-time performance by a big name act. Best of all, we don't charge you per-ticket fees and we make nightly deposits giving you immediate access to your sales dollars. If you are not currently selling tickets online, give us a call, we can have your small venue up and running today.
Image source: Wikimedia Commons